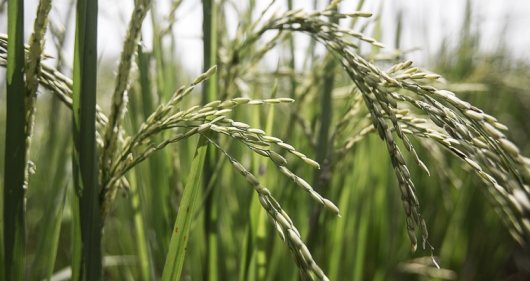 Green centres
The Dreyer foundation realizes a project for sustainable rice production on 250 hectares of previously unused valley floodplains.

Rice plays an increasingly important role for the nutrition of the inhabitants and the farmer's income situation in Dano. Since 2003 the foundation developed approximately 300 hectare of paddy fields for 900 farming families. Within the framework of the program "green centres for innovation in agriculture"of the Federal Ministry for Economic Cooperation and Development, the Dreyer foundation implemented a project for the development of a more productive and sustainable rice production on approximately 250 hectare of previously unused wet lands.
One major component of the project is an innovative industrial plant which processes rice based on renewable energy (solar heat; gasification of rice crop residues). Within the operation of the rice factory, rice will be dehusked and parboiled on-site. Thus the product quality as well as the price level can be improved.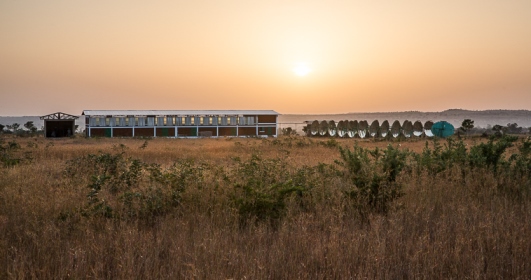 1150 small hold farmers organized in cooperatives benefit from this German initiative to promote rice production in Dano. Goal of this rice cultivation project is the improvement of food-security in this region and an immediate improvement of the economic situation for in total 12.000 persons.
Until the end of 2017, the implementation takes place in the following three areas:
| | |
| --- | --- |
| | Installment of irrigation areas in the wet-lands: clearance of some trees in the fields, construction of the irrigation and drainage canals, construction of small dikes. |
| | Education and further training for farmers to quarantee a good harvest: special qualification of the farmers in the field of organization, administration as well as first concepts of organic agriculture by means of so called Farmer Field Schools |
| | Financing of agricultural inputs: agricultural inputs (fertilizer and seed) are provided on credit and have to be paid back in cash or by corresponding amount of paddy rice at the end of the harvest period. These funds present the working capital, which allows purchasing the agricultural input of the following year. |
The sustainability of the whole project will be achieved by organizing the farmers in cooperatives and continuously training them. By the end of 2017 the 30 small cooperatives will be together organized in one central cooperative. This higher organizational entity will be responsible for supply of fertilizer and seeds, supply and management of transport and agro-machinery for the 30 cooperatives, administration and training of cooperatives, bookkeeping and personal, running of the rice factory, marketing of the processed rice, organization of microcredit financing. The Dreyer foundation will support the buildup of this organization and its running by training and advice.